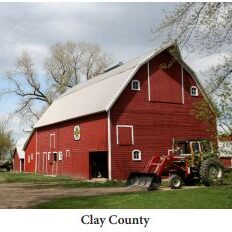 Iowa Barns - yesterday and today
Order your copy today!!
Iowa Barns yesterday and today  takes the reader on a tour of all 99 Iowa counties with 800 color photos of barns, silos, corncribs, homes and businesses.  The photo tour is accompanied by stories from owners, their descendants, and neighbors which portray these structures' diversity - past and present. It is the result of a study that began 38 years ago and resumed in 2012. The scope of this book exceeds that of any other publication. 294 pages. 800 color photos. 8 1/2 X 11" softcover.
Cost: $29.95 each
Delivery via USPS: $5.00 each
NE State Sales Tax will be applied for all orders delivered in Nebraska.
We accept PayPal as well as all major credit/debit cards via the Buy Now button below.
To use your credit or debit card, click the grey Pay with Debit or Credit Card button below the PayPal account sign in fields in the checkout page.
If you refer to order via mail or want to arrange a local pick up, please review the information on the Contact Us page.
About the Author
Karlene Kingery grew up on a farm in northwest Marshall County near St. Anthony. Living in the country was near and dear to her as she treasured the farm life, her family, butterflies, flowers, sunsets, and the stars. After a teaching career she spent six years assembling this book. She will continue to encourage preservation of these structures for future generations to use and enjoy.