Cracker Jack made Odebolt famous. In 1911, 12,000,000 pounds of popcorn were shipped, making it the "popcorn center of the world," and in 1915 local farmers produced three-fourths of the world's supply.
Back in 1890 A.C. Petersmeyer of Odebolt started a grain business and contracted with Rueckheim Bros. in Chicago to supply popcorn, and it was even sold at Chicago's Columbian Exposition in 1893. The name "Cracker Jack" was registered in 1896, along with the slogan 'The more you eat the more you want." It wasn't long before improvements were made in packaging and developing a seal to keep the popcorn fresh, making it available in stores everywhere. Each box contained a toy until 2016, when it was replaced by a QR code used to download a game.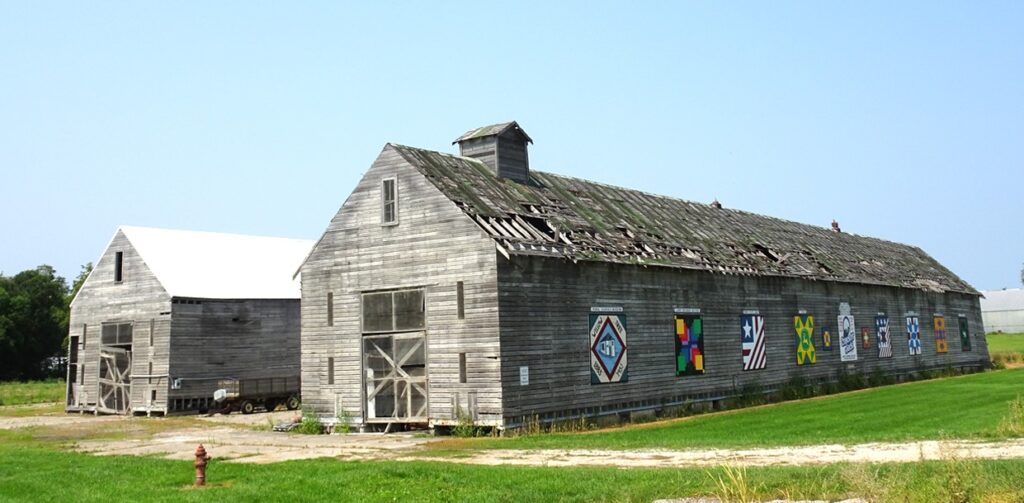 Two gigantic cribs built in 1922 to store locally grown popcorn still stand on Highway 175 at the northeast corner of Odebolt. There were six more cribs at one time in other places around town and some were in use until 1964. All of those are gone. Only the two shown above still exist.
Nine barn quilts, 8 x 8 feet, plus two smaller versions were added about six years ago, paid for by the advertisers shown, and are a focal point as one drives north out of town on County Road M43. The second crib, with a steel roof, is being used for storage.
Pictured below is the "barn quilt" advertising Cracker Jack. The Cracker Jack product was purchased by Borden in 1964 and sold to Frito-Lay in 1997. Popcorn is no longer a product stored in Odebolt, but its legacy remains. It is available online or in select stores where candy is sold. Below is a bag purchased in Omaha for $1.78, one of several varieties available today.