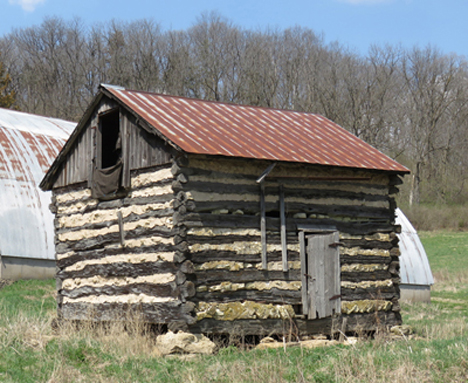 This tiny log home in Jackson County is still hanging on, located about 500 feet off a gravel road northwest of Bellevue. What an unusual log cabin this is! Note that it consists of alternating rows of logs and limestone, the   stones visible in the lower right hand corner. Pioneers would have likely filled the spaces with mud or clay. The door as well as an opening (presumably built as a window) on the upper level can be seen; on the opposite side is another small window. 

The Jackson County Historical Society believes it may have been constructed by Henry Roling, although research is ongoing at this time. In A. T. Andreas' Illustrated Historical Atlas of the State of Iowa, 1875, Henry is listed as a farmer in Section 3 of Bellevue Township, a native of Hanover, Germany who immigrated in 1851. 

It was in a precarious state in 2013 when members of the county historical society stabilized it. The property is now believed to be owned by a trust in Galena, Illinois, and may be for sale. Information about the builder of the barn and date is still unknown. Pictured below are the barn in 2016 and what is left of it in October of 2020. 

On a bluff several hundred feet away from the log home and barn is the farm's long-vacant limestone home below, also photographed in October 2020.