Munterville. Where is it? Located about six miles north of Blakesburg, it is not on most Iowa maps. A big red barn, an immigrant memorial, a Lutheran Church, and a few houses are all that remain today.
 Southeast Iowa was a key area for Swedish immigration, including this village. In 1847 settlers arrived in Wapello County and established Bergholm. It was changed to Munterville in 1870 when the post office was established in recognition of Magnus Munter, a prominent community leader. The post office closed in 1905. 
The Swedish Immigrant Memorial in the lawn of Munterville Lutheran Church, adjacent to the church cemetery, commemorates the settlement by Swedish immigrants. It depicts a family dressed in pioneer clothing, rather than Swedish clothing. Three flagpoles surround it: a U.S. flag, an Iowa flag, and a Swedish flag, as well as a brass plaque listing donors and memorials of former residents.
About ½ mile east of the monument is a barn, erected by an early settler, whose name is unknown today. The red barn is in excellent condition and stands out in the countryside. It was the site of the Alex Johnson Dairy that sold raw milk from the1920s-1940s. Shown is a milk bottle cap from this dairy.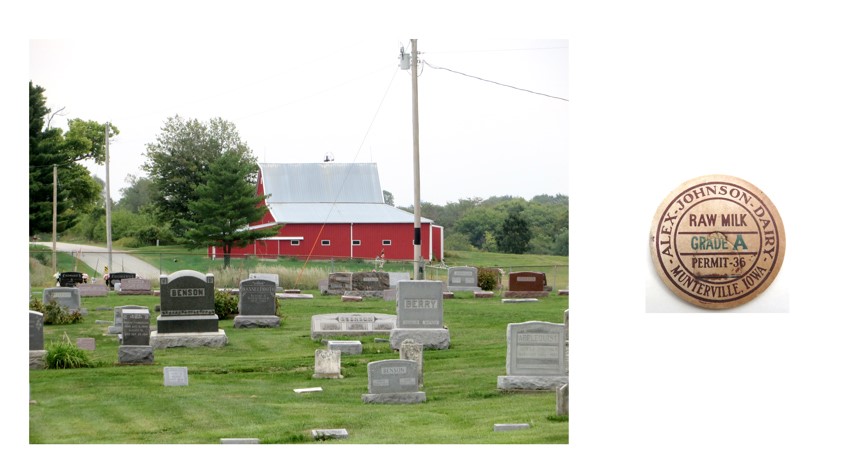 The Lutheran church was an integral part of the community but unfortunately closed several years ago due to declining membership. It will be kept in good repair for years to come, fortunately, by money set aside by members and descendants. Adjacent is a large, well-kept cemetery where many immigrants and probably the builder of the barn are buried. (September 2022 photos)